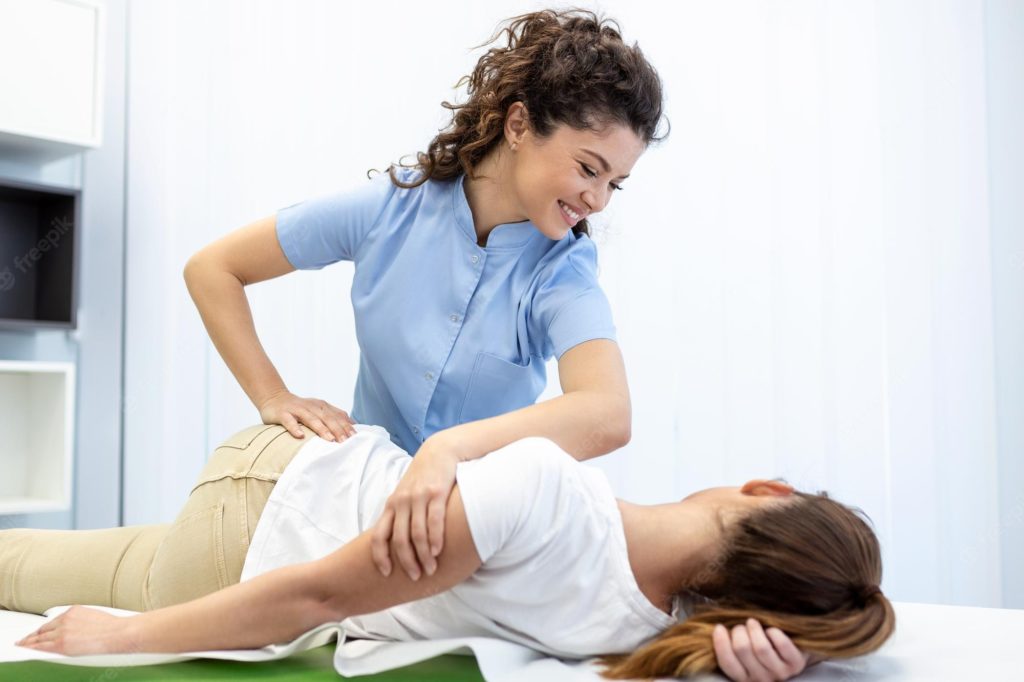 Rehabworks Physical Therapy
RehabWorks Physical Therapy provides custom designed, state of the art, and "revolutionary" treatments for patients of all ages. We abide by our Hospitality Care™ model, which focuses on understanding the "whole person" and their health & wellness needs.  Our therapists incorporate practical, actionable strategies: things like how to choose the right words, how to see things through patients' eyes, and how to use sensitive and implicit messaging to communicate effectively.
Our specialists investigate the root cause of your symptoms and identify imbalances that make you vulnerable to injury. Our goal is to abolish your pain cycle and history.
                        SPACIOUS FACILITIES * SPA LIKE ENVIRONMENT * INNOVATIVE THERAPISTS * PROFESSIONAL EQUIPMENT
About the owners and a shared philosophy-  Mark and Jay have over 20 years experience each and have worked in many practices in PA NY OH WV and FL.  They share a very important goal, which is to create a UNIQUE and specialized therapy experience.  They focus on the highest standard of care through the most modern techniques and technological advances in the rehab field to provide their clients with specialized programs solely offered by RehabWorks. "At RehabWorks Physical Therapy we have the right fit for each stage of your life. Regardless of which program you choose we have a physical therapist ( physiotherapist ) to help you achieve the most effective outcome."  -MP & JA
Reoccurring Pain Cycles
Posture Corrections 
SI Dysfunction
Piriformis Syndrome
Tendinitis
Arthritis
Bursitis
Patellofemural Stress Syndrome & Dislocation
Sprains & Strains
Osgood-Schlatter
TMJ
Iliotibial Band Friction Syndrome
Plantar Fasciitis
Frozen Shoulder
Chronic Pain Syndrome
Joint Pain
Rotator Cuff Injury
Epicondylitis
Carpal Tunnel Syndrome
Spine conditions
Bulging or Protruding Disc
Spinal Stenosis
Herniated Disc
Radiculopathy
Radiating Arm & Leg Pain
Spondylolisthesis
Spondylosis
Loss of Sensation & Atrophy
Loss of Function & Irregular Weakness Patterns
Drop Foot
Trendelenburg
Scoliosis
Kyphosis
Chronic Posture Problems
Joint Replacements
Total Hip Replacement
Total Knee Replacement
MAKO (Unilateral) Replacement
Total Shoulder Replacement
Reverse Shoulder Replacement
Pre Surgical Conditioning
Pre & Post Surgery
Laminectomy
Herniated Disc
Spinal Fusion
Discectomy
Kyphoplasty & Vertebral Fracture
Meniscal Repair
ACL & PCL Repair
MCL Injuries
Cartilage Tear
Achilles Tendon Repair
Bunionectomy
SLAP Reconstruction
Subacromial Decompression
Carpal Tunnel Repair & Decompression
Retinacular Releases
Disease
Outpatient Cardiac & Stroke
Vertigo & Balance Specialists
Parkinson's Disease
Lightheadedness
Dizziness
Hand Therapy & Occupational Health
Sports Specific Rehabilitation
Sprains & Strains
Sacroiliac (SI) Pain
Ganglion Cyst
Subgrade Weakness & Imbalances
ORIF
Contusions
Throwing Athlete Tendinitis
Running ACL Program
Fractures & Dislocations
Strength Conditioning
Performance Enhancement Training
Irregular use Impairments
Schedule with us now to experience the difference.
Vanderbilt & Collier Blvd
7273 Vanderbilt Beach Rd, Ste 18, Naples, FL 34119
Hours:
Mon-Thurs 8am-6pm.
Fri: 8am-5pm
Sat: for post-op patients only
9110 Strada Place, Ste 210, Naples, FL 34108
ENTER THROUGH PARKING GARAGE
Hours:
Mon-Friday 8am-5pm